BOMA Austin - Event Information - BOMA Austin
Event Name:
BOMI Course: Boilers, Heating Systems, and Applied Mathematics
Event Type(s):
BOMI Designation Courses

Description:
Boilers, Heating Systems, and Applied Mathematics provides information for you to learn about the critical factors involved in boilers and heating systems. It provides a thorough review of mathematical skills, thermodynamics, and energy sources. You will learn the skills necessary to identify, operate, and maintain boilers, boiler components and pumps, boiler controls, steam heating systems, hydronic heating systems, and warm air and radiant heating systems.
Upon successful completion of this course, learners will be able to:
Understand the different boiler types, their components and control systems, and their operation and maintenance
Recognize, set up, and maintain a reliable and effective heating system
Calculate ratios, proportions, and percentages
Convert units of measure
Key topic areas:
heating systems operations • mechanical components of heating systems • thermodynamics as applied to heating systems • basic mathematics needed to operate heating systems
Applies to:
SMC certificate
SMA® and SMT® designations
USGBC Recommendation: 24 GBCI continuing education hours toward the LEED Credential Maintenance Program

Instructor: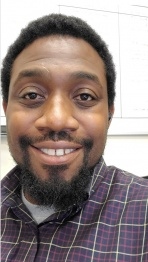 Segdrick Jones is the Building Engineer/Safety Officer at PerkinElmer Inc managing over 50,000 square foot office and labs. He started out as Building Engineer at Biotech Thermo Fischer and then became a Building Engineer at Telecom. After Telecom, he started working as a Building Engineer at Cushman & Wakefield. He has been pursing the SMA designation himself for the last two years and his professional aspiration is teaching people.
Class Schedule:
Held every Thursday from 6pm - 9pm
First day of class will be June 25th, 2020
Last day of class will be August 13th, 2020
Event Date:
6/25/2020 - 8/13/2020

Event Time:
6:00 PM - 9:00 PM Central
Details:
Registration Fees:
$880 for BOMA Austin & AAFAME Members
$1,100 for those that are not members
New Students will be charged a $250 enrollment fee

Other details:
Student manuals will be delivered to address provided 7-10 days after registration
E-books available for an additional $50 fee
Food is provided at the classes - bring your own water bottle
Parking will be validated
For those looking for hotels should search around the downtown Austin area
Outlook/ vCalendar/ Google: